It seems like a different world, but it was only two months ago that I published a blog entitled Is Technology The Frenemy Of Culture? and questioned the challenges of maintaining a strong business culture with the changes in technology. In it, I even used the example of remote working and how it tests our humanity. I would love to be able to say that I knew we would be in lock-down and working from home only four weeks later – to boldly claim that my blog titles had some form of prophetic insight or that this addition promised another clear prediction beyond the namesake of a 1970s Johnny Nash album. Alas, like the rest of us, I had no idea. Perhaps another song on the album would be a more apt description for my interpretation of our new normal, There Are More Questions Than Answers.
Personal burning questions such as, "how will I recycle my coffee pods now?" have gained new perspective as first-world issues. More pertinent may be "is the telephone conference call dying out to the video call?" Greater still, "are video calls really superior to real-life interaction?"
These questions leave us searching for wisdom from those whom we have trusted to lead us through uncertainty. One quote I have seen a number of times over the last few weeks is "never let a good crisis go to waste," which has been credited to Winston Churchill. Of all the leaders in history, Churchill understood that times of crisis lead to innovation and to an acceleration of progress that is not achievable in normal times.
I am not going to debate or question what good and bad may come out of the current crisis, rather I want to focus on how it is innovating and accelerating the uptake and use of technology in everyday business.
The straightforward implications are the ones I have already discussed; working from home, use of video conferencing and the like. But what else can we expect?
The economic impacts of the health crisis are changing at a frenetic pace. What this means is that normal data cycles are completely inadequate. Where an economy stops overnight and hundreds of thousands are put out of work, waiting months for the data makes any meaningful insights or forecasting impossible.
This is where I see the single biggest change to technology; the accelerated use of big data to produce up to date information that can guide decision making in real-time. The fast-tracking process has already started.
One interesting example of this fast-tracking is the Weekly Economic Index (WEI) which is produced by the Federal Reserve Bank of New York and developed to track how well the economy was doing during the COVID-19 crisis. The WEI is an index of real economic activity using timely and relevant high-frequency data. It represents the common component of ten different daily and weekly series covering consumer behaviour, the labour market, and production. The graph below gives us a semi-accurate predictor of GDP, on a weekly basis, enabling decision making based on up-to-date data.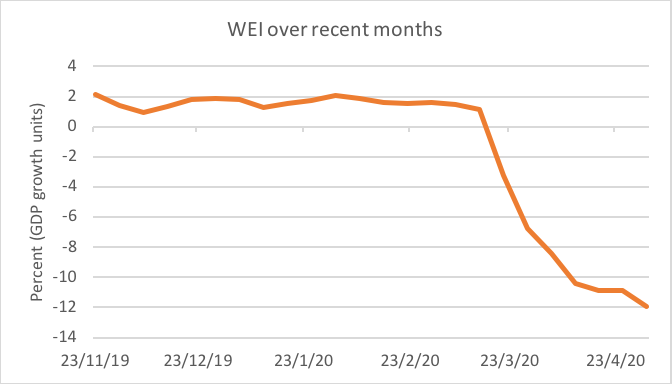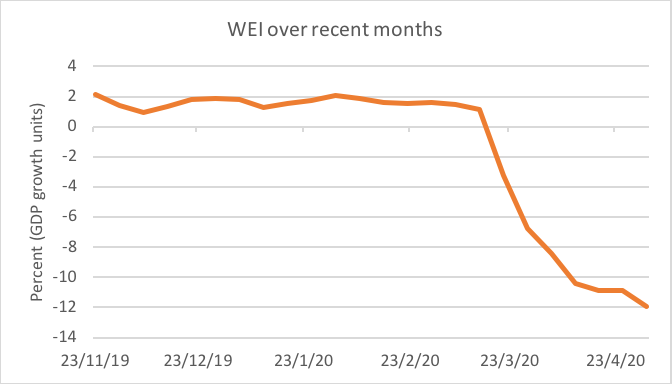 In Australia, similar acceleration can be seen at AlphaBeta, who are tracking consumer spending based on real-time spending patterns.
New tools and indicators tell us what businesses are thinking and doing in real-time and have the potential to be of enormous value and inform better decision making. The continued challenge will be innovating to identify the data and access it immediately, not three months later.
I can see these expedited approaches and many more being used to rapidly guide thinking and forecast the drivers for investment long into the future. At EG, we're already investing in this because we know to continue to "plough the furrow" of the past is as outdated as this expression.
In the short term, there might still be More Questions Than Answers to come, but let's hope we are starting to see clearly now and don't waste this crisis.