EG's Rodney Walt and I have just returned from rural Tanzania, where we visited one of the charities that EG supports – Neema Craft. This is an enterprise in Tanzania where people with a wide range of physical disabilities are being taught skills and offered work that can support them and their families. Joining us on the trip was Adam Kellerman, our own Aussie champion and two-time Paralympic wheelchair tennis legend, and Elliot Constable, a journalist and documentary maker.
We finally landed in Dar es Salaam late, after a 23 hour trip from Sydney before flying to Iringa, a one hour flight away. There we were met by a chorus of kids and their carers from one of the local orphanages we were to visit. Standing proudly in T-shirts bearing our names and welcoming us as they sang and danced. Tony Stewart, former NSW parliamentarian, had arranged this amazing welcome for us and we joined him for a tour of the orphanage that he has supported for many years.
The St James and St John's orphanages have been supported by Tony and Fr Chris O'Reilly's work for a number of years. Their work to build new facilities for the children and their carers is nearing completion and the focus of further charitable donations in the short term will be on buying some land so that the can be self-sufficient.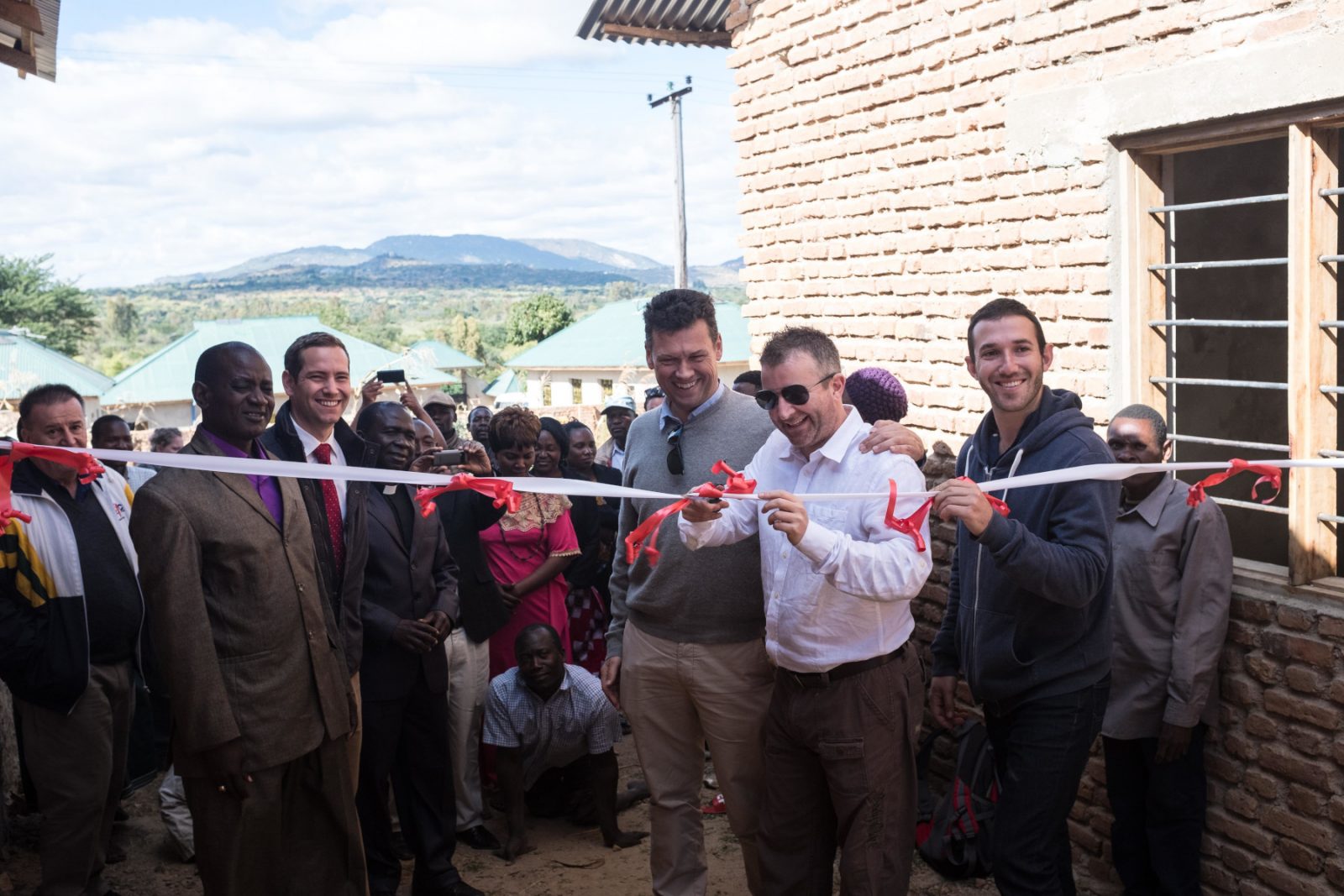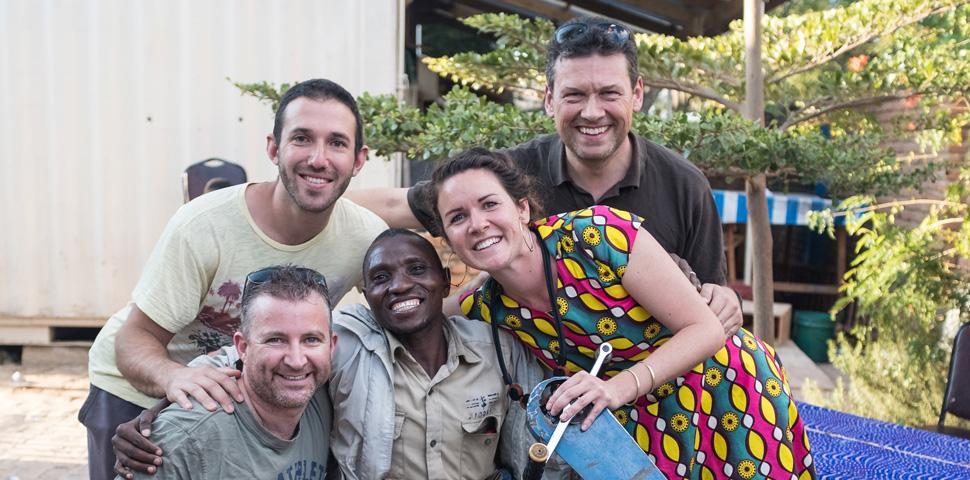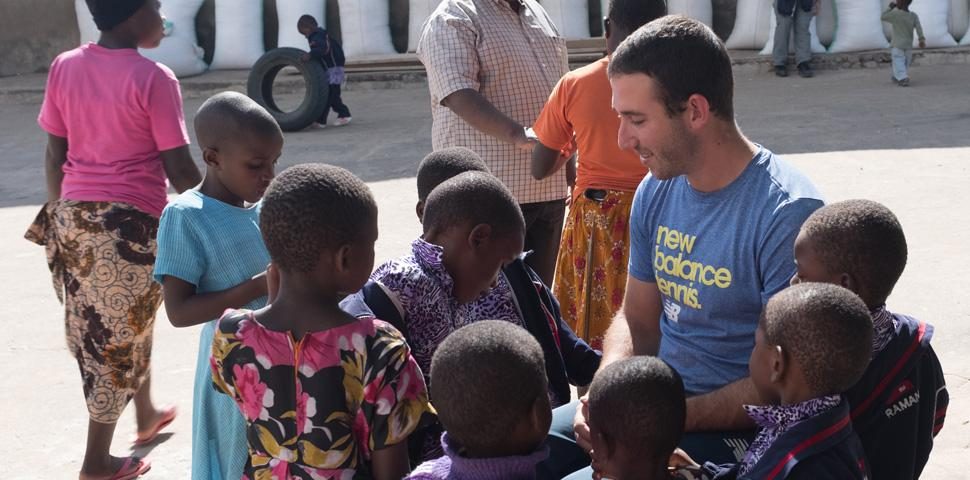 From the orphanages, we then went to Neema Craft where Ben and his wife Katy from England have worked for the last 6 years expanding the work of the centre's founder to give deaf and physically disabled people a real job making items for sale in Tanzania and around the world.
From Neema's inception making paper (from elephant dung!), Ben and Katy have expanded the product lines into screen printing, quilt making, weaving, wood turning jewellery making and ceramics. The Neema Craft business is financially self-sufficient after little more than 10 years and around 100 people with disabilities now have real jobs and financial independence. Many of the workers' stories are tragic and the stigma of disability in Africa is not easily overcome, but Neema Craft is making a very real difference here.
EG is now funding the construction of around 20 simple houses for the Neema Craft workers, with another 30 still needed in the short term. The houses save many hours of commute and bring real pride, joy and independence to their owners and families. EG's help is an important part of the evolution of Ben and Katy's work to bring the workers beyond subsistence and properly integrate them into their communities.
We made wonderful connections with the workers at Neema Craft. Adam Kellerman gave the whole team of 100 or so a presentation about his own story. Healthy, sporting Aussie kid knocked down at the age of 13 with cancer that came so close to killing him, and causing the loss of his hip. During a painful and slow recovery, he was introduced to wheelchair tennis. In that sport, he found first a new challenge to be the best player that he could be, and from there developing as a motivational speaker. His story and message – to look for your abilities and strengths beyond any physical disability – struck a real chord with the Neema team. It is a message totally aligned with the work of Neema Craft and culture that they have developed.
Neema Craft gives people with terrible and tragic disabilities something they have never had before. Independence; financially and sometimes physically through an on-site occupational therapy team. But it has now become a workplace that is self-sustaining – their employer is independent too and not relying on support to run its day to day operations. All that is fantastic and Ben and Katy are to be applauded for their care, dedication and hard work, but Neema Craft has done something even greater.
Disabled people in Tanzania are treated with mistrust and fear. It's deeply embedded in their society. The able-bodied people we meet in the town are all lovely, warm people, but the fear and mistrust of the disabled is in part caused by folk stories that disabled children have been cursed or are a curse on their family. Mistrust stems from a prejudice that they are all beggars; unable to pay for things in shops and on what little public transport there is. Neema Craft has really begun to change this. The local towns and villages see the current and former Neema workers confident, financially independent and some now as house owners. Attitudes towards the disabled are increasingly changing as locals come to know the Neema Craft shop and café and see production in full swing.
The Neema Craft workers may still have physical disability but that's only on the outside. They are no longer disabled in their opinion of self-worth and the local people are unwittingly supporting this change. This to me is what makes Neema Craft very special and something EG is proud to support as Neema looks to expand physically into new premises and, as a seed of an idea, into an additional location so that Neema Craft's special magic can work elsewhere, changing attitudes.
If there was a single word for this trip it would be 'joy.' A particular highlight was to drive out to see 8 of the 18 houses that have been built with funds from EG and our friends including George Miltenyi. The families that have already moved in proudly showed us around and thanked the sponsors profusely. We had the honour of cutting the ribbon to open a newly completed home, then handing the keys over to the delighted and overwhelmed new owners. With the blessing of the local bishop bestowed on all the homes and everyone associated with this project, cake was cut and fizzy drinks passed out to one and all. How wonderful to be present at this great occasion.
We were with the Neema Craft team and the orphanage for less than a week, but time was totally distorted by all that we had seen and experienced. We have left true friends that are inspirational and true role models in their skills, dedication, care, ingenuity, hard work, integrity and faith. They all have a great sense of humour and close culture that sits well with that of EG. Driving back to the tiny airport it seemed as if we had landed to see the orphan children dancing to welcome us more than a month before. We left Iringa dusty, emotionally drained and physically exhausted. How they do this week after week, month after month, year after year shows their enormous stamina.
This home building project will really transform the lives of the Neema Craft workers and their families. There are lots more needed and hopefully we can continue our financial support. You can learn more about Neema Craft through their website, and see their wonderful products and gifts – Christmas isn't far away.