"There is a tide in the affairs of men,
Which, taken at the flood, leads on to fortune;
Omitted, all the voyage of their life
Is bound in shallows and in miseries.
On such a full sea are we now afloat,
And we must take the current when it serves
Or lose our ventures."
Shakespeare, Julius Caesar, Act IV, Scene III

Every 20 years or so, there is a tide in the affairs of men. A cresting wave that ushers fundamental change to a sector or an industry.
Catch this wave – or better still, surf it – and it can sweep you to staggering success at bewildering speed. Miss it and you risk being overtaken by less vaunted competitors, bound in "shallows and miseries".
On such a full sea are we now afloat.
There is a wave of tidal proportions beginning to form not far from the shore of commercial real estate. It's the digital revolution and it's coming towards us at a terrific speed.
My counsel is simple: get your surfboard ready and paddle like crazy. This is one wave you won't want to miss.
Too Big To Ignore: The Business Case For AI And Big Data
One of the best books written on AI and big data in 2019 is AI Superpowers by Dr Kai Fu Lee. In it, the author argues that dramatic changes will be happening much sooner than most people expect.
This is because AI is shifting from an "Age of Discovery," in which the advantage lies with brilliant researchers and breakthrough insights, to an "Age of Implementation," in which engineers need only be competent, not geniuses.
Training successful deep-learning algorithms requires computing power, competent engineers and lots of data. But of those three, it is the volume of data that will be the most important going forward.
This is why AI naturally gravitates toward monopolies. Its reliance on data for improvement creates a self-perpetuating cycle: better products lead to more users, those users lead to more data, and that data leads to even better products, and thus more users and data. Once a company has jumped out to an early lead, this kind of ongoing repeating cycle can turn that lead into an insurmountable barrier to entry for other firms.
And so it follows that the more data you accumulate, the harder it will be for your competitors to catch up.
The Remarkable Rise Of Willow
Anticipating the coming tidal wave, in November 2017 EG co-founded a company called Willow along with two dynamic, visionary innovators: Joshua Ridley and Dale Brett.
Two years later, Microsoft's CEO – Satya Nadella – recognised Willow as a global innovator changing the way real assets are being operated and managed. Click here to hear what Satya said about Willow and the resulting AFR article.
In partnership with Microsoft, Willow has created and led a new category of smart buildings: "digital twins" for the built world. Digital twins are precise virtual replicas of real assets in real time – a "single source of truth" that contains all the geo-spatial, asset register, repairs and maintenance and live data relevant to an asset. Importantly, they also provide valuable feedback on how users and tenants interact with the asset.
There is no better way to manage complex real estate and infrastructure assets than through dynamic, organic digital twins.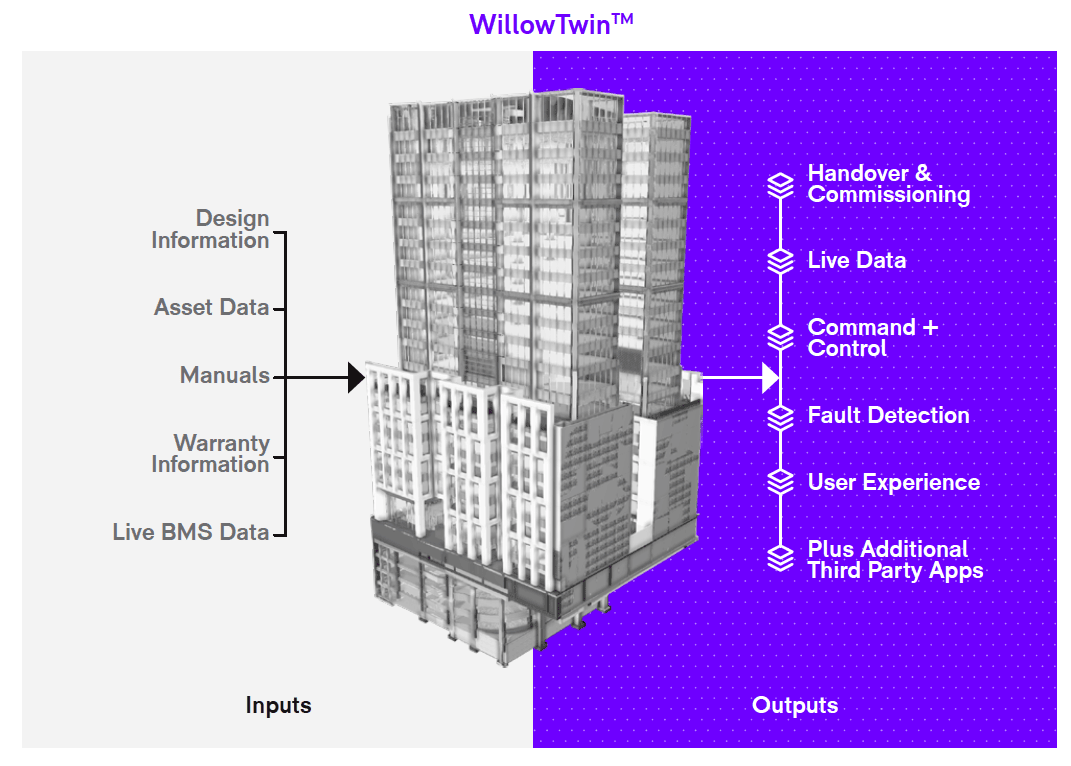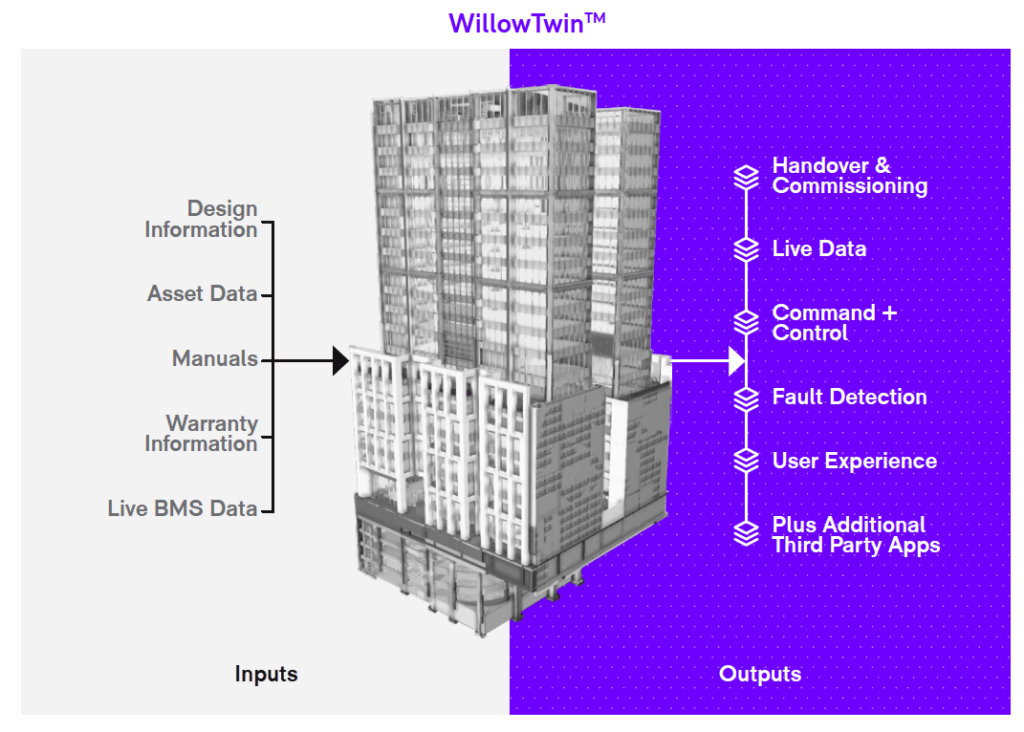 Forward-looking companies across the globe have been quick to embrace Willow's vision including (among many others): Microsoft, Strukton, Brookfield, Oxford, The Durst Organization, BP, BHP, Investa and the LA RAMS stadium (the 2028 Olympic stadium). These companies are the early adopters intent on leading the industry and their rewards will be considerable.
EG has committed to using Willow's digital twin technology to manage all of its core and core-plus asset portfolios to improve performance and sustainability.
A Few Use Cases for Digital Twins
There are literally hundreds of applications that can be run on the big data generated by buildings – and captured by digital twins.
Energy optimisation and fault detection are two of the better-known uses and there are now scores of applications in these verticals. Willow's role will be to help asset owners access best-of-breed, third-party applications from around the world and to trial and compare rival applications with the click of a button. This will be done through Willow Marketplace – an open innovation App Store for the Built World.
But this is only the beginning of the digital revolution for the built world. Here's a sneak peek into the future of asset management through digital twins.
For facility managers, Willow's Warranty Tracker will be a game-changer. Millions of dollars are squandered each year by building and infrastructure owners simply because they can neither locate the equipment and installation warranties that they hold or because there is no systematic way of enforcing them. Willow's Warranty Tracker application will allow owners a seamless way to track and enforce warranties including push notifications six months prior to warranty expiration on major items of equipment. In other words, it will help facility managers to manage proactively rather than reactively.
Building owners will also greatly benefit from the transparency that digital twins will bring to such things as tenant service requests.
Currently, building owners have little or no visibility into the number or category of tenant service requests. They don't know which buildings are receiving complaints from tenants, how many, the nature of the complaints, the speed of resolution or the resulting tenant satisfaction. Digital twins will provide complete visibility into all of these items thus enabling owners to assess the performance of their facility managers across their entire portfolio in real-time.
The way ahead
The best uses of digital twins are yet to be invented. The industry is very much in its infancy and the potential applications in the fields of building insurance and smart maintenance contracts are yet to be fully explored. One thing for sure, expect these sectors to be transformed within a decade.
And what is more: the built world is set to become far more sustainable, safer, less wasteful and more intelligent.
Change is upon us. Rapid change.
And with rapid change comes great opportunity. Leaders who have the foresight and courage to "take the current when it serves" will be very handsomely rewarded.