It's frightening to think that most people don't know their neighbours' names.
Interactions with those who live right next door may not feel important or necessary, but studies show more benefits to building a strong rapport with those physically closest to us.
The immediate benefit is safety. A safe environment is created as you proactively look out for one another. Beyond feeling safe is the sense of belonging and being part of something bigger than yourself.
An estimated 1 in 3 Australians are reporting loneliness, the staggering statistic highlights that connections are more important than ever. With loneliness felt by so many individuals, it's not surprising that two-thirds of Australians would like to get to know their neighbours better.
It shows that humans have a biological need for social interaction, which if not met, can lead to severe anxiety and depression and, at its worst, suicidality. Building real connections with the broader community is vital as more Australians choose to live alone.
That's why EG is focused on creating built environments that put people first.
Connections within office spaces
EG is excited to welcome the Little BIG Foundation to assets across the Delta Fund.
Pre-pandemic, 40-60% of office workers were lonely at work. It has been on the rise with more people working from home, especially for those who are no longer required to return to a physical workplace.
The Little BIG Foundation is spreading its wings to foster connections within office spaces, helping individuals form relationships with those within the same building.
Communities will be formed through bespoke programs executed for tenants, using data collected from surveys, focus groups, engagement events, and observations. This will allow the team to ensure a meaningful program comes to life for the whole of the building and encourage people with shared interests to come together and communications to spark.
We can have a measurable impact on well-being by fostering participation in social groups outside the workplace but at the convenient destination of your work building. As relationships forms, it becomes a great reason to return back to the office.
These programs will help to improve occupancy levels in the short term and office tenant retention in the long term as employees befriend the neighbours that work next door.
Ultimately, the goal is that awkward elevator rides or walks in the same direction will not exist and will be replaced with a hello and meaningful conversation.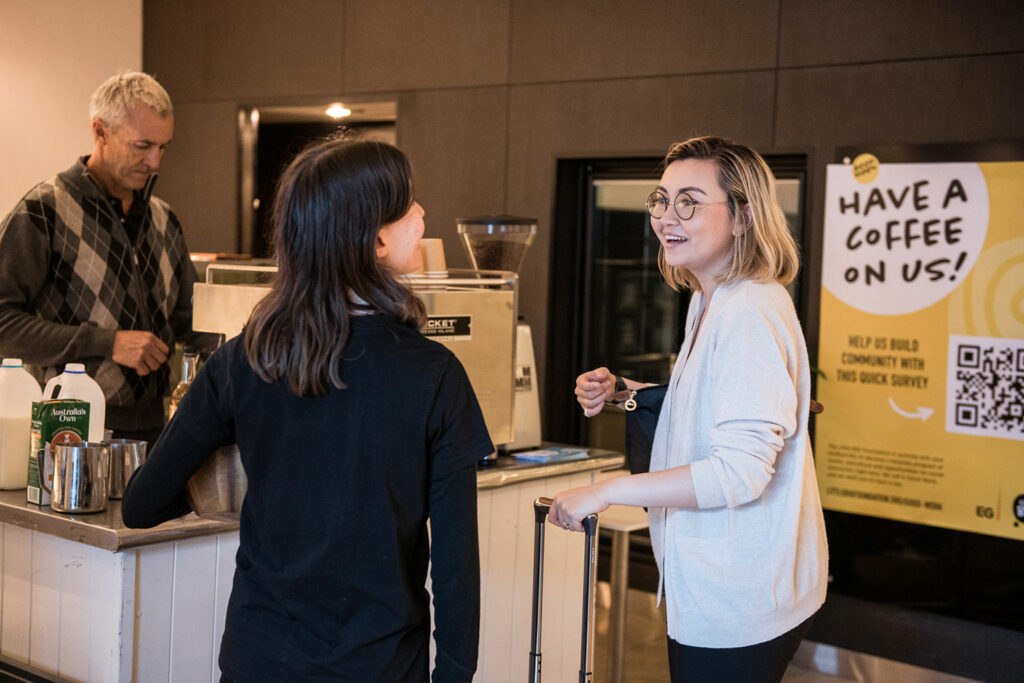 Creating connections within the built environment
Property developers understand that connections between residents and the wider community are important. That's why communal spaces are part of the design, from rooftop barbeque areas to community gardens. But once properties are built, most developers move on to the next project and expect the residents or tenants to nurture a community themselves.
But it's extremely common for neighbours to acknowledge one another with only a smile or a hello, but conversations don't usually go any further, and communities aren't usually formed.
That's why EG helped establish The Little BIG Foundation.
The vision is to foster a happier, healthier, and kinder community through social connections. We expect to achieve these positive social outcomes through the engagement of neighbours who partake or volunteer for events. As opportunities for ongoing interactions are initiated, we hope the nod or smile transforms into a friendship.
That's exactly what has been achieved at Summer Hill, with the introduction of the Foundation at EG's Flour Mill Development.
"My favourite thing about the Little BIG House is that it brings together people from all walks of life and revives the culture of connected neighbourhoods." Sanjeev Volunteer & Event Host at the Summer Hill Little BIG House.
EG's people-first approach is our lasting commitment to fostering mental well-being through belonging.